Made In Germany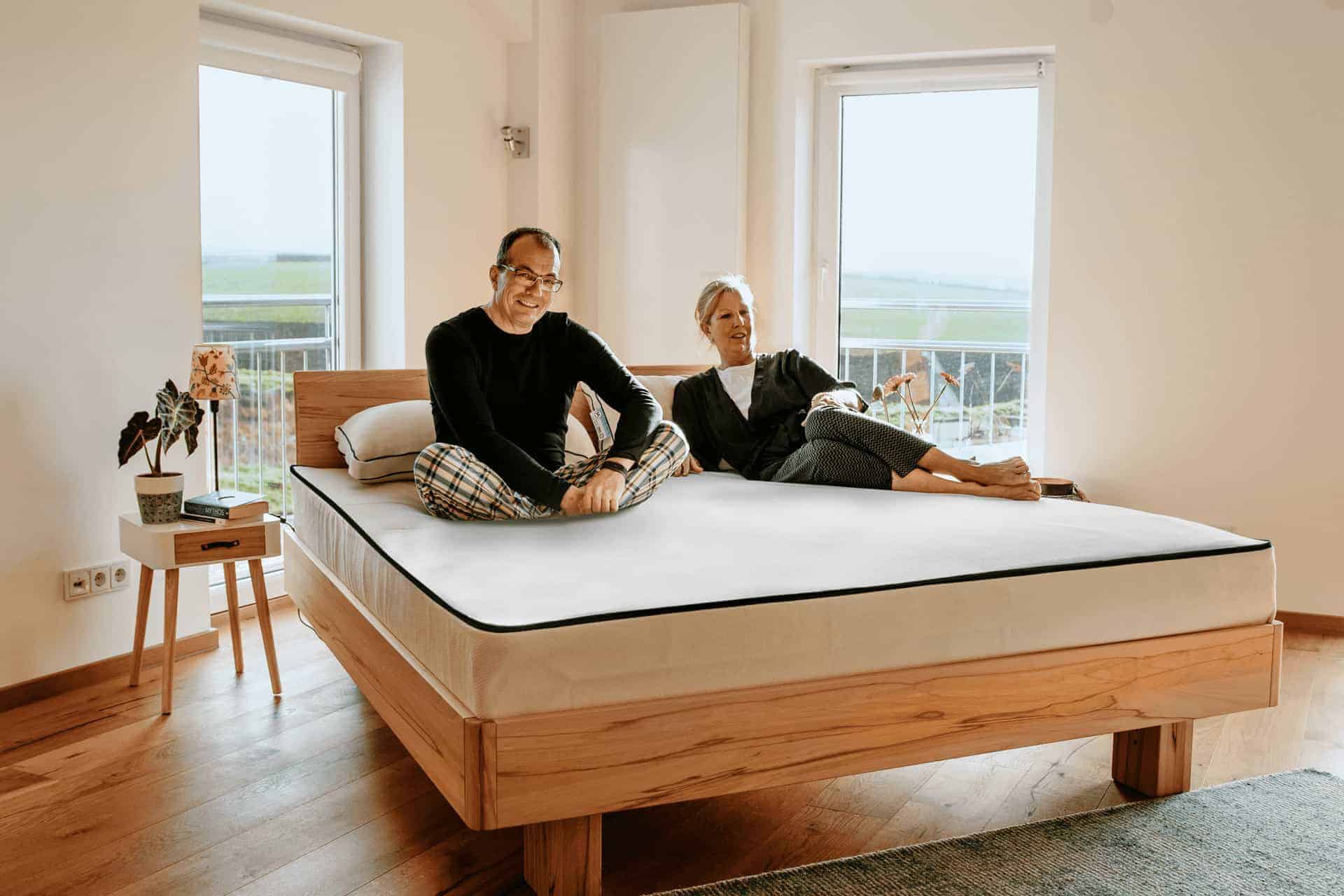 Refurbished top quality for more energy during your day
Get the ultimate comfort in your bedroom today!
Refurbished top quality for more energy during your day
Get the ultimate comfortin your bedroom today!
Made In Germany

Europe's best and most comfy Eco Mattress Refurbished

Save 25% plus save valuable natural resources
Quality guaranteed

100% inspected, professionally sanitised and newly packaged.
14-day return period, 10 year warranty

Peace of mind and restful sleep for many years to come
14 Night Happiness Guarantee and 10 Year Warranty
"We had been looking for a mattress for about a year, but after much research I stumbled across Una. I have waited a year to see if the comfortable bliss we found when sleeping on their mattress would subside and all I can say is it has been the best money we've ever spent. So much so I bought their pillow for my husband who now sleeps like a log."
Viviene
Trustpilot Review
"Without doubt the best thing I have purchased in decades. This is money well spent. The mattress is so comfortable, and it feels just as heavenly to know it is made from such amazing materials. Amazing team at UNA too. Thank you so much; I love it and so does my sleep"
Kate
Trustpilot Review
"Brilliant mattresses, firm yet forgiving, much more comfortable than so-called memory foams or contour-hugging mattresses, and they just FEEL great... they have that X factor that makes you really enjoy lying on them."
Kevin H
Trustpilot Review
What is a refurbished mattress or pillow?
Una Refurbished are mattresses, toppers and pillows that have been tested and then returned as part of the 100 night home trial. Most of these have only had a few days use, or in some cases a few weeks. Upon receipt, the mattress or pillow is carefully examined and sorted by our experts. Una renews the undamaged ones by sanitising and sterilising all components and then repacking it in our 100% recyclable and reuseable packaging.💚
Product Details Una Refurbished
14-Day return
Each Una Refurbished mattress, topper or pillow comes with a 14-day return period and 5-year guarantee on pillows and toppers and 10 years on mattresses.
Materials
Breathable and adaptive organic certified natural latex foam
Pressure-relieving and supporting with adjustable firmness
Organic latex foam: GOLS organic certified and Climatepartner carbon neutral certified natural latex foam.
Organic cover: GOTS organic certified and Climatepartner carbon neutral certified cotton YKK premium zipper. 
Care
Easily spot clean when needed using water and natural backing soda and leave to air dry. Machine wash on delicate setting and cold water only (not 20c or 30c). Una does not take responsibility for shrinkage should this occur but a replacement cover can be ordered. Just get in touch)
Easy Delivery & Returns
Free Delivery
Una comes in 1-4 handy sized boxes depending on the item. We work with DPD and UPS to ship your Una Refurbished mattress, topper or pillow to your front door.
Easy Returns
Fill in our returns form and we will take care of the rest. Our returns are of course completely free.